Bennet Jones – clarinet
Isabel Jones – flute
Tim Senior – cello
Ben Westley – violin
Steve Walter – guitar
Formed in 2016, Mosaic Five aims to present original works by composers for any combination of one to five performers. Featuring the unusual line-up of flute, clarinet, violin, cello, and guitar (and occasionally percussion), the group enjoys playing both newer compositions and commissions by local composers, as well as arrangements of music by by 19th and 20th century composers. Our debut concert in 2017 featured the world premiere of a piece by Bristol composer Richard Leigh Harris alongside music by Bartók and Manuel de Falla. Mosaic Five are keen to collaborate with other performers and and composers from the Bristol area.
Moon Viewing (Mov 1) – Richard Leigh Harris (1956-)
Renaissance English Dances (Packington's Pownde) – Arr. Steve Walter
Six Romanian Dances (Jocul cu bata) – Béla Bartók (1881-1945)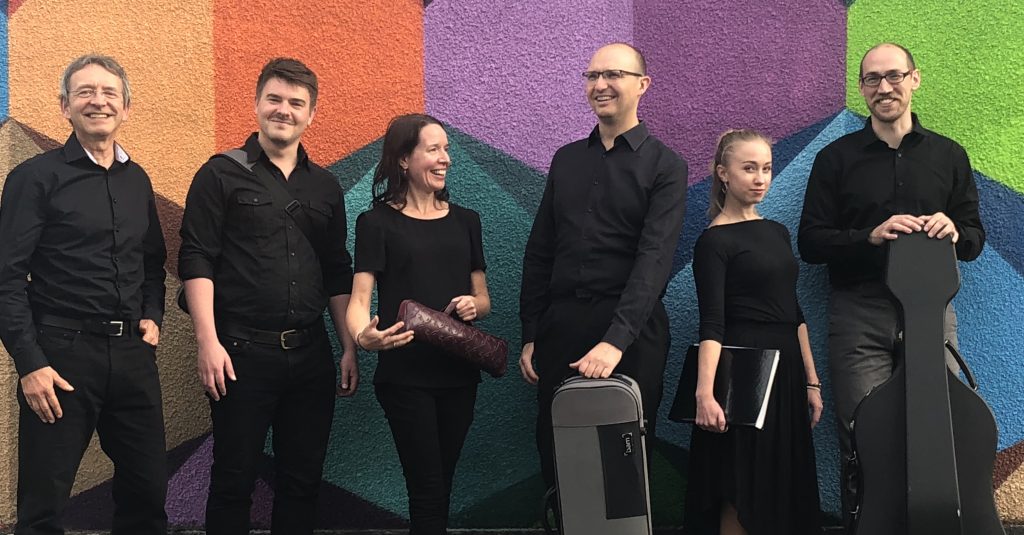 Mosaic Five with soprano Hayley Guest (photo credit: Carol Attwood)
Mural by Paul 'Monsters' Roberts: Website | Instagram | Facebook | Twitter